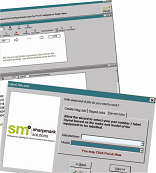 Sharpmark Labelling Software is an efficient and cost effective solution enabling users to produce professional labels using a standard office laser printer, removing the need for expensive custom printers.
Combined with our high quality printable labels, the Sharpmark Software allows you to organise and label your project clearly, minimising downtime for regular maintenance and trouble-shooting.
Benefits of Sharpmark Software
User friendly and requires no training.
Pre-loaded with all the Sharpmark label part numbers and standard templates to fit a wide range of manufacturers components- just select the one you need.
Create your own job from scratch.
Use number sequences, alpha sequences, fixed text or a combination of all three.
There are many layout options for each label.
Import data from spreadsheets and word documents as well as graphics.
Import and export your labels for ease of transfer between PCs.
Compatible with all versions of windows.
Supplied with a multi-user licence and free upgrades.
Unlimited technical support is available by telephone or email.
Software Downloads
Click on your country flag to download the correct software for your country. Please ensure that you download the correct country version. Click here to see what's right for you.